I didn't want this to be about him, but I suppose it was inevitable. This was supposed to be a record of how people lived through the most harrowing experience since World War II, and managed to (hopefully) learn from it and conduct themselves in a more sane and thoughtful manner. Unfortunately, this phase of our collective ordeal requires us to navigate this catastrophe with the worst possible person holding immense power.
The President and his pandemic team address the nation.

Character is revealed in crisis, and it was just over two weeks ago the President proved himself unfit to lead the nation (and the world) through this crisis. At a press conference on March 20, NBC's Peter Alexander lobbed a softball at Trump, asking, "What do you have to say to Americans who are scared?" It was an easy opportunity for the President to show compassion, courage, and competence. But because the President possesses none of these qualities, he interpreted it as a threat, and shot straight from the amygdala with one of his patented attacks on a press corps full of people smarter and more humane than him. We've come to expect such petulant hostility from the President, but the stakes are much higher now, we can no longer roll our eyes and grimly wonder what maladjusted response he will have to the next minor challenge that faces him. In the following days, the President's panic expressed itself with the absurd notion that this could all be over by Easter. Then President exercised his favorite superpower, going from preposterous to petty when he directed Vice President Pence to prioritize assistance to states whose governors show adequate obsequiousness to him.
Remember that time Obama called Chris Christie a fat piece of shit and insisted he be nicer to him if he wanted help after hurricane Sandy?
Amidst this flurry of baroque incompetence and pathological solipsism, Congress managed to put together a relief bill that provides massive amounts of money to corporations (and thus, CEOs and shareholders), and a one-time payment that will help some working people get through the first half of April (or the second half, or May, or whenever they get it). We have been assured there will be conditions and oversight on the money used to bail out industries, but apparently the law does not provide subpoena power for investigating malfeasance, and the person conducting the federal oversight of how industries use this money is Steve Mnuchin. In other words, this greatly resembles the 2009 bailout, except that working people will get a little bit of hush money.
The one ray of sunshine in all of this appeared last weekend when the shit began hitting the fan in New York and at some point the President must have had a sit down with Dr. Fauci about the reality of the situation, because by Tuesday there was a lot less preening behind the podium and the tone was much more somber. Gone were images of packed churches on Easter Sunday; nary a word about a malaria drug acting as a miracle cure; and most importantly he adopted (as much as he could) a tone of gravity and seriousness for the first time since the arrival of COVID-19 on these shores.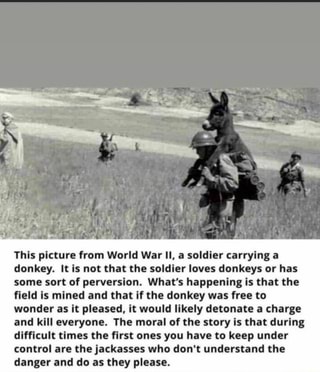 The reason the change in tone is so important is because it has affected the behavior of Cult 45. More people are following the social distancing guidelines than last week, and after the President extended his 15 day plan to an additional 30 days, everyone outside the southeast appeared to begin taking this seriously. The President has immense power, and not just because he's President, but because nearly 40% of the country will not only do whatever he says, they will think the thoughts he tells them to think. They excuse his previous rosy pronouncement about COVID-19 "magically disappearing in April," and the "packed churches on Easter," crack as him wanting to be positive and not panic people. These are people who clearly prefer to be lied to, and they will all still be here long after President Trump has departed.


Please don't die.
And for now we need not only navigate our way as a nation through this crisis, we need to do it while navigating the ego of the Orange Toddler. These are times that call for heroic action, but not the kind we're accustomed to. Nearly a century of "men of action" movies have led us to think of heroes as guys who do big, physical things, like leaping tall buildings, stopping speeding bullets, etc. But this crisis, and the unique crisis of personality woven through it, can only be navigated by someone who can draw a balance between honoring the facts and reality of the situation, and appeasing the infantile ego of one of the most selfish and volatile personalities on Earth. 
Anyone who has ever been in line in a grocery store (pre-COVID-19) behind a family who allows their cranky toddler to make all the important decisions knows where we're at. Except now the stakes are much higher, and 40% of the other shoppers are cheering the toddler on. This is what living in America during the COVID-19 pandemic is like. And it will not get better as long as this President is in charge.